What is there to do at Naard Creek Ranch?
Naard Creek Ranch offers many opportunities to enjoy the great outdoors. You can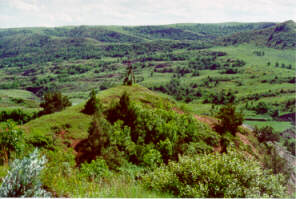 hike in the badlands
hike the Lewis and Clark Trail
bring your camera to photograph breath-taking scenery
mountain biking
bring your own horses to trail ride
gaze at the stars in our wide open skies
hunt for fossils and Indian artifacts
view unique geological formation
in season hunting
view the ranch's rich historical sights
cross-country skiing
pick & photograph wild flowers
JUST RELAX!
Naard Creek Ranch is also rich in wildlife, which you can observe in their natural habitat. Catch a glimpse if you can...
coyotes
deer
antelope
rabbits
eagles & hawks
horntoads
beaver
wild turkeys
raccoon

songbirds
grouse
pheasant
elk
bobcat
badger
muskrats
porcupines
and much more
Seasonal Activities at Naard Creek Ranch
Springtime brings nature anew. Along with this comes branding time in May.
From May until September cattle are moved from range to range for grazing.
July 3rd and 4th brings the big Independence Celebration in nearby Killdeer, North Dakota. It includes the Killdeer Mountain Roundup PRCA Rodeo, parades, fireworks, and much more.
Native American Pow Wows.
September is the start of hunting with the opening of bow and bird hunting.
Starting in November and going through March there is snow for cross country skiing (depending on the weather).
Area Attractions to Visit
Little Missouri State Park
Killdeer Mountain Battlefield
Medicine Hole
Theodore Roosevelt National Park - North Unit
Historic Medora & Theodore Roosevelt National Park - South Unit
Lewis and Clark Trail
Lake Sakakawea - Walleye Fishing
Little Missouri River - Catfishing & Boating
Area Museums
Golf Courses

Naard Creek Ranch schedules family holidays, weekend getaways, retreats, and hunting package vacations by reservation only. For more information or to make reservations contact:


Harry & Maureen Olson

11580 6th Street NW

Killdeer, ND 58640

701-863-6911

www.naardcreek.com

E-mail:

lolson@pop.ctctel.com

Copyright © 1999-2000 Naard Creek Ranch. All rights reserved.